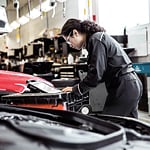 Did you receive a letter in the mail notifying you that your car has a manufacturer recall? Don't worry, it's nothing serious, but you will want to have it repaired at an authorized dealership as soon as possible.
So, What Exactly Is A Manufacturer Recall?

A recall is when the vehicle manufacturer finds a flaw or safety issue with a specific model and year, and that usually means all vehicles of the same model and year are issued for recall. The typical recall can range from a bad airbag to a necessary software update on the vehicle's computer. When a manufacturer opens a recall campaign, they will send a notification via mail or email to all owners of that specific vehicle.
After you have received a recall in the mail or on your email, it is then your job to take your car to the licensed car dealership whose responsibility is to fix the problem free of charge.