2018 Buick Cascada Driving Impressions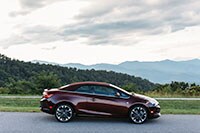 Serving in its role as an open-roofed boulevard cruiser, the Cascada falls a bit short in refinement, but provides a pleasing experience. Potent performance isn't part of the picture, but Buick's convertible is relaxed on the road.
Large wheels and narrow tire sidewalls conspire to yield a choppier ride than expected – a bit like animal hooves pounding the pavement. Steering is accurate and appropriately-weighted, if short on road feel. The suspension fails to keep body lean fully controlled through curves and corners.
Despite relatively high power output for a small engine, the four-cylinder is overtaxed, largely because of weight. To retain body stiffness with the top down, a considerable amount of chassis bracing is required. Tipping the scale at nearly two tons, then, the Cascada is as hefty as some crossover SUVs.
In its attempt to deliver sufficient engine power, the turbocharger has to work quite hard. On the plus side, the Cascada engine is quiet and largely refined. Downshifts from the automatic transmission can be slow to arrive. Occasionally, they're drawn out and woozy.
Fuel-efficiency falls short, partly due to the Cascada's abundant weight. With its 1.6-liter engine, the 2018 Cascada is EPA-rated at 20/27 mpg City/Highway, or 23 mpg Combined.
1Dealer Discount applied to everyone.