2018 Buick Cascada Introduction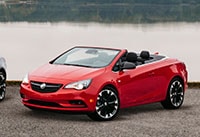 Buick Cascada is a compact convertible that's all about style. Introduced for the 2016 model year, Cascada is the first Buick soft-top since the richly appointed Riviera of the mid-1980s, or the Reatta two-seater made in 1990-91.
Little has changed for the 2018 Cascada, but new color choices and color combinations with the soft top freshen the line. A Sport Touring trim level, with special design details, joined the lineup for 2017. Ranking as one of the least costly convertibles on sale today, the charmingly sedate drop-top has a distinctively continental aura.
Three trim levels are offered: base, Premium, and Sport Touring. Each version is stylish, fitted with a high level of standard features.
All models are front-wheel drive and use a turbocharged 1.6-liter four-cylinder that makes 200 horsepower and 207 pound-feet of torque, driving a 6-speed automatic transmission. An overboost provision can raise torque output briefly, to 221 pound-feet, when needed.
Buick's convertible is pleasurable to drive, but it isn't sporty. It's more of a boulevard cruiser. Cascada has no direct competitors, now that moderately priced convertibles have faded away.
Rather than start fresh, General Motors looked to its highly respected European Opel division for the basis of the soft-roof Buick. Launched more than five years ago, Cascada's European cousin hasn't changed much since then. One sign of aging is the control layout, which relies heavily on buttons. Its infotainment system, too, hails from a prior generation of General Motors models.
Cascada lacks the most advanced safety features. A rearview camera is standard, but for a premium model, active-safety features are barely existent. Forward-collision and lane-departure warnings are optional, but automatic emergency braking is not available at all. Thus, Cascada is one of few current-model cars that cannot stop itself automatically if sensors detect an imminent crash.
Crash-testing by the National Highway Traffic Safety Administration resulted in a five-star overall rating, with five stars for the side-impact test but only four for a frontal impact.
1Dealer Discount applied to everyone.