2018 Buick Encore Driving Impressions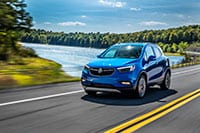 With the standard 1.4-liter turbo engine, without direction injection, it takes nine seconds to move the 3200-pound Encore up to sixty miles per hour, a lethargic performance. The engine strains to get the Encore underway, the transmission upshifts too soon so has to change its mind and downshift for more acceleration; and it doesn't bring back such great fuel mileage.
The direct-injection engine gets 31 miles per gallon, while offering quicker performance. Its 153 horsepower provides more appropriate vigor. Passing on two-lane roads and merging onto the expressway is much easier and safer. It makes a worrisome booming noise under hard acceleration, however.
Despite the short wheelbase, even with large wheels, the Encore delivers a surprisingly and impressively comfortable ride. Small potholes and other such spots are still choppy, but less than you expect. Optional all-wheel drive not only improves traction, but improves the ride.
The electric power steering does its job well.
The automatic Stop/Start system is barely noticeable, bravo to Buick, as many manufacturers' systems are intrusive.
1Dealer Discount applied to everyone.