2018 Buick LaCrosse Introduction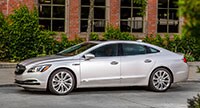 The Buick LaCrosse is moving fast in its own reinvention, as a front-wheel-drive flagship four-door sedan. It was totally redesigned for 2017 (and well received).
The new 2018 LaCrosse eAssist uses a hybrid powertrain. The mild hybrid uses a 2.5-liter 4-cylinder engine and one electric motor with a small lithium-ion battery pack. Unlike a full hybrid, for example the Toyota Avalon, the LaCrosse can't run all-electric. LaCrosse eAssist is EPA-rated at 25/35 mpg City/Highway, or 29 mpg Combined.
The available 3.6-liter V6, meanwhile, gets a new 9-speed automatic transmission for 2018, replacing an 8-speed, and the availability of all-wheel drive has been expanded to two models.
LaCrosse isn't a luxury car, it's a premium American road car, but it's good enough to make you wonder if a luxury car is worth it. In its third reborn generation, the Buick LaCrosse has established an identity. Its premium and near-luxury competitors fade into the crowd: Lexus ES 350, Toyota Avalon, Nissan Maxima, Acura TLX, Hyundai Azera. Another competitor, the Chrysler 300, also has an identity, as well as a face that stands out from the crowd.
The relatively long wheelbase of the LaCrosse gives it the stance of a rear-wheel-drive car, even though it is front-wheel drive. The V6 makes an impressive 310 horsepower and 282 pound-feet of torque. The engine was designed with Stop/Start technology, as opposed to that capability being added, and it's almost invisible. The entry-level model looks and feels nearly as rich as the Premium, with convincing leatherette upholstery.
Fuel economy for the 2018 LaCrosse with the 3.6-liter V6 and new 9-speed transmission is rated at 21/30 mpg City/Highway, 24 mpg Combined. With all-wheel drive, it's 20/29/23 mpg.
1Dealer Discount applied to everyone.