2018 Buick LaCrosse Walk Around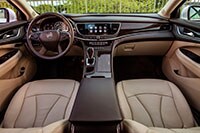 LaCrosse represents an icon from 1958. The '58 LaCrosse marked the climax of chrome. Chrome peaked, in the grille and on the body, with the '58 Buick. It may be a dubious distinction, to be known as the most heavily chrome-laden car in history, but it is a distinction in the history of style.
The current LaCrosse comes from the Avenir concept car that wowed the 2015 North American International Auto Show in Detroit. It's sleek and muscular, with character lines from its shoulders to haunches. The standard 18-inch wheels (two designs), HID headlamps and LED taillamps add to the appeal.
The current model doesn't completely avoid chrome, but it's a long way from overboard. The proud and daring waterfall grille is split by a small chrome bar. The chrome faux ports on the sides of the front fenders are an acceptable nod to nostalgia.
Interior
The Buick cabin is simple and elegant, modern and functional, with a flowing dashboard and floating center console that make it feel airy inside. The Lexus ES 350 and Toyota Avalon are more imaginative, but the LaCrosse mostly hits the mark, although the padded armrest between the front seats is too high.
The leatherette trim on the seats feels like real leather, and the French-stitched vinyl on the dashboard and door panels is fine, but the gray plastic on the center console looks low-rent. Hard plastics are pasted to the lower part of the dash, but rivals do that too.
There's an eight-inch touchscreen on the dash that is resistant to fingerprints. It uses the latest version of GM's IntelliLink infotainment, with Apple CarPlay and Android Auto. On Star with 4G LTE connectivity is standard.
The front seats of this five-seat sedan are good, but only two passengers will be comfortable in the rear. There isn't enough room for that alleged fifth passenger; they might squeeze in, but not for long. The trunk is 15 cubic feet, a decent size, a bit smaller than the Toyota Avalon.
Buick calls its sound-deadening engineering Quiet Tuning. It uses the latest and most sound-absorbent materials, a quieter engine, acoustic wheelhouse liners, active noise cancellation, triple door seals, and an acoustic-laminated windshield and front side windows. It all works well to create a very quiet cabin.
1Dealer Discount applied to everyone.