2018 Chevrolet Corvette Driving Impressions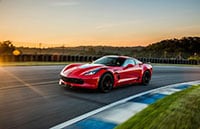 Mechanically, the Z06 is a benchmark for what a high-performance sports car should be. Sure, a Ferrari might be more exotic, and an Aston-Martin more gorgeous and eye-catching, but nothing matches a Corvette in performance-for-dollar. It has speed, handling, and style equal to cars costing twice as much.
The key to Corvette's superb handling is its grip. The Z06 and Z51-package cars use an electronic differential to gain grip. Even without that and other electronic traction aids, the chassis is poised and balanced.
The chassis and suspension use a lot of aluminum, which aids handling along with the adjustable dampers and Performance Traction Management system, especially in its Track mode. Flat cornering, over 1g of lateral grip, and accurate electric power steering deliver a control that can be addictive, especially on the track. The handling is astonishingly better than the C6. Driving the C7 is a special and rewarding experience.
The 455-horsepower LT1 engine in the Stingray sounds excellent as it accelerates hard. It can do the quarter-mile in 12 seconds flat. Gearshifts in the seven-speed manual transmission are slick. Shifts from the paddle-shifting eight-speed automatic never hesitate. It's remarkable, even in automatic mode. GM says it shifts 80 milliseconds faster than the Porsche twin-clutch PDK.
The Grand Sport's wider rear fenders cover its wider rear tires, and the aerodynamic additions add to the racecar look. But it's only two-tenths quicker in the quarter mile, as wider tires and aero tweaks aren't for acceleration. Neither are the big Brembo brakes, but they too make the Grand Sport more capable on a road racing circuit.
Now add the Z07 package, including Michelin Pilot Super Sport Cup 2 tires, carbon-ceramic brakes, Magnetic Selective Ride Control dampers, and a more aggressive aerodynamics. Also add another $8000.
The Z06 brings Corvette to another level. Its supercharged 6.2-liter LT4 makes 650 horsepower and 650 pound-feet of torque. With the eight-speed automatic, it can accelerate from zero to sixty in 2.95 seconds.
1Dealer Discount applied to everyone.