2018 Chevrolet Tahoe Driving Impressions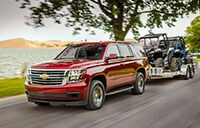 Tahoe drivers can expect to experience a traditional truck feel, but this sizable heavyweight doesn't seem as antiquated as its traditional specifications might suggest: The Tahoe is a stable and supremely comfortable highway cruiser and it rides quite nicely on rougher roads.
Capabilities for towing beat crossover models. Properly equipped, Tahoes can tow up to 8,600 pounds. Tow/haul mode limits the transmission's tendency to downshift too soon.
Measured against crossovers, cars that look like SUVs, Tahoe handling is best described as ponderous, though steering feels more precise than in the past. Ride quality scores better, because soft coil-spring suspensions cope effectively with large bumps. The smooth ride refutes the Tahoe's pickup-truck heritage. Models with 17- or 18-inch wheels ride best, demonstrating good body control and a soft overall feel.
Not only is the Tahoe's 5.3-liter V8 smoothly powerful, it sounds strong and rich, mating neatly with the 6-speed automatic. In low-load conditions, the V8 can run using only half of its cylinders, to improve highway fuel economy.
Tahoe handles rugged terrain well, especially in terms of durability. It can handle routine travel on gravel roads and two tracks. For more challenging terrain, its size can become a challenge, however. Optional four-wheel drive can be upgraded with a two-speed transfer case, useful for mud and steep grades.
Tahoe RST offers a tauter suspension, bigger Brembo brakes, and more potent V8, giving it a tuner feel. Over lumpy terrain, GM's Magnetic Ride Control improves ride quality while tightening handling.
For such a large vehicle, fuel economy isn't bad. With rear-wheel drive, the 2018 Tahoe is EPA-rated at 16/23 mpg City/Highway, or 19 mpg Combined. Four-wheel drive drops the estimate to 16/22/18 mpg. The newly optional 6.2-liter V8 guzzles Premium-grade gasoline. With rear-wheel drive, the Tahoe RST is EPA-rated at 14/23 mpg City/Highway, or 17 mpg Combined. Four-wheel drive reduces the RST estimate to 14/22/17 mpg.
1Dealer Discount applied to everyone.