2018 GMC Yukon Introduction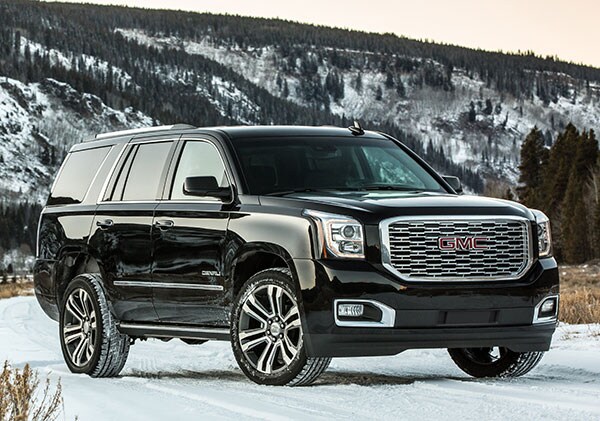 The GMC Yukon is a full-size SUV, built on a truck chassis, ready to tow heavy trailers, haul large amounts of cargo and/or small busloads of people. And it can withstand the abuse of rough, unpaved roads on a regular basis, something car-based crossovers cannot endure.
Except for addition of tire-fill alert to the tire-pressure monitor, standard Yukon and Yukon XL models have not changed significantly for 2018.
Close kin to the Chevrolet Tahoe and Suburban and Cadillac Escalade, Yukon is a big, wholly traditional SUV, though thoroughly modernized. Equipped with a muscular V8, the Yukon unreels sufficient power to perform energetically on the highway, or tow a trailer with ease.
For 2018, Yukon Denali, the top GMC trim level, adopts a sophisticated 10-speed automatic transmission. Denali appearance has been revised for 2018, but the differences are modest.
Yukon XL is 20.5 inches longer overall than Yukon, on a wheelbase that's 14 inches longer. Yukon XL offers much more third-row legroom than does the Yukon, making Yukon XL better for large numbers of passengers. The added length of the wheelbase, 116 inches for Yukon, 130 inches for Yukon XL, makes the XL a more stable platform for trailer towing. Yukon is the same length as the Chevy Tahoe, while the Yukon XL is the same length as the Suburban.
Unlike car-based crossover SUVs, Yukons are built using a separate body and frame and a solid rear axle. While crossovers can transport passengers more efficiently, the Yukon models are more capable of pulling trailers.
A Yukon can be equipped to tow as much as 8,500 pounds.
GMC Yukon and Yukon XL come in SLE, SLT, and Denali trim levels, with rear-drive or four-wheel drive. Yukon Denali versions are almost as luxurious as Cadillac Escalade, which echoes the Yukon's construction. Chevrolet has no Denali equivalent.
In Yukon SLE and SLT, a 5.3-liter V8 develops 355 horsepower and 383 pound-feet of torque, driving a 6-speed automatic transmission.
Only the Yukon Denali gets GMC's 6.2-liter V8, sending 420 horsepower and 460 pound-feet to the new 10-speed automatic.
Like its Chevrolet counterparts, Yukon is the last SUV to offer the option of a three-place front bench seat, replacing the standard front buckets. The second row is less spacious. In a standard-wheelbase Yukon, the third row is surprisingly tight, but a Yukon XL third row is friendlier to adults, with 10 inches of additional legroom.
Yukons with front buckets include a special airbag meant to keep occupants apart during a collision. Several forms of collision-avoidance technology are available, including adaptive cruise control and automatic braking, as well as blind-spot monitoring and lane-departure warning. Low-speed automatic braking is optional for Yukon SLE, but standard on SLT and Denali. Full-speed emergency braking and adaptive cruise control are SLT/Denali options.
Crash-testing by the National Highway Traffic Safety Administration gave the standard-length 2018 Yukon four stars overall, but five stars in frontal and side impacts, and three stars for rollover protection (a calculated figure). That's no surprise for a top-heavy SUV. The Yukon XL earned only a four-star score for frontal impact.
1Dealer Discount applied to everyone.